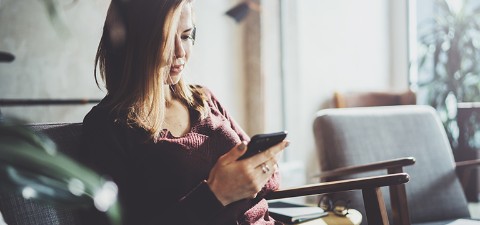 Think twice before you click
Did you recently receive a text message from bpost asking you to install an app? Don't respond, the text message is fake and was sent by cybercriminals! 
The app contains a virus that uses your contact list to spread itself. 
This cyber attack has been widely reported in the media. This time a Bpost-scenario was used but we expect other well-known companies will follow. Read more about this on safeonweb.be.
Phishing is a form of online scamming using fake e-mails, websites or messages.  Text messages are used increasingly, often to send false links for the purpose of defrauding people. This form of phishing is known as SMS phishing, or smishing for short. Smishing has been on the rise for the past few weeks and we can expect more attacks with smishing messages in the future as well. 
How do cybercriminals operate?
Cybercriminals use current events to make you curious and to make you click. Currently a lot of smishing messages promise something in response to the corona crisis.  But also messages that look like they come from the government, a bank or a courier company continue to circulate. Don't get caught out and always be alert.

Scammers send a text message with the request to install an app via a link. This app contains an Android virus that accesses your personal data and uses your contact list to spread itself further. As a result, the number of victims increases rapidly.​​​​​​​ ​​​​​​​
How can you identify those fake e-mails and text messages? And how can you distinguish them from real messages? Smart cybercriminals can really make you doubt. The phishing messages look deceptively real, with real logos and sometimes even a signature and telephone number of your contact person. Think twice before you click and don't get tricked! Here are a number of tips to help you assess whether or not you can trust a message.
Tips to protect you
Be careful if you receive an unexpected message from that person or authority or if there is an urgency involved.

Be wary when you receive a text message with a link.
Never click on the link if the web address is unknown or strange to you.
If in doubt, consult the official channels of the sender, such as the website or app, or contact them directly.  
Only install an app through the official appstores: Google Play Store and Apple Store.​
More info
Read more on safeonweb.be what you need to do to remove the virus and how you can protect yourself against it.